In the fast-paced world of advertising, it takes a blend of innovation and experience to stand out from the crowd. One company that has not only mastered this art but also exemplifies corporate social responsibility is Mobile Billboards Northwest, a leading Out of Home Advertising (OOH) company based in Spokane, WA. With a commitment to providing world-class services and over 25 years of experience in the Outdoor and Transit/Vehicle advertising industry, Mobile Billboards Northwest has become a driving force in the advertising landscape of the entire Northwest, covering Washington, Oregon, Idaho, Montana, and Utah. What sets them apart is their unmatched expertise and dedication to giving back to the community. 
"Words can't express my gratitude to Mobile Billboards NW. Their generous sponsorship of our Charity Golf Tournament amplified our mission to help marginalized youth build the self-confidence they need to succeed."
They made a remarkable impact by sponsoring the Believe in Me David VonBrethorst Memorial Charity Golf Tournament last June and generously donated their services to make the event an overwhelming success. Let's delve into the dynamic world of Mobile Billboards Northwest and explore how they're revolutionizing advertising with their unique approach.
Take Your Brand on The Road Less Traveled
At the core of Mobile Billboards Northwest's success lies their innovative approach to advertising – mobile billboards. Unlike static billboards limited to one location, mobile billboards are strategically placed on vehicles that travel through high-traffic areas, ensuring maximum exposure to potential customers. Whether a busy urban street or a crowded event, Mobile Billboards Northwest can put your brand exactly where you want it to be, effectively engaging with your target audience.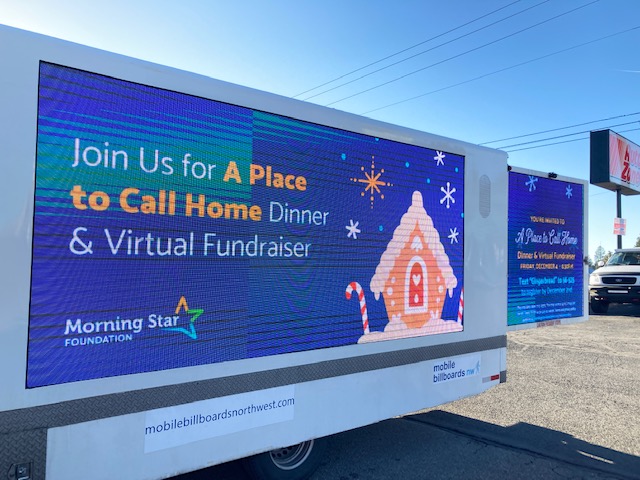 Decades of Expertise
With more than a quarter-century of experience in the industry, Mobile Billboards Northwest has honed its advertising techniques to perfection. Their team of seasoned professionals understands the ever-evolving demands of the market. It works closely with clients to craft campaigns aligning with their needs, goals, and budget. This personalized approach has earned them outstanding relationships with their clients, making them a preferred choice in the region for OOH advertising.
Mobile Billboards Northwest: Where Results Speak Louder Than Words
When it comes to advertising, results matter the most. Mobile Billboards Northwest takes pride in offering the most effective form of advertising that delivers actual results. Combining creative messaging with strategic placement ensures your brand leaves a lasting impression on potential customers. Their mobile billboards attract attention, increase brand visibility, and drive foot traffic to businesses – all while providing a cost-effective alternative to traditional advertising methods.
Flexibility and Customization
Mobile Billboards Northwest understands that every client's needs are unique. Hence, they offer unparalleled flexibility and various options to accommodate diverse advertising requirements. Whether it's a short-term campaign or a long-term promotional strategy, they have the expertise and resources to deliver impactful solutions. This adaptability has made them a preferred partner for businesses of all breadth, from local startups to established enterprises.
Community Engagement and Giving Back
Beyond their success in the advertising industry, Mobile Billboards Northwest exemplifies the values of community engagement and corporate social responsibility. Their commitment to making a positive impact is evident through their sponsorship of charity events, such as our recent golf tournament. Not only did they donate their services, but they also lend a helping hand to worthy causes, strengthening their bond with the community they serve.
"It is absolutely an important part of our business model to give back to those in need. We decided years ago to give back up to 5% of our annual business space and time to give back to a special cause. What is more important than our youth? We chose working with organizations like Believe In Me because of their tremendous effect on helping young lives. We will always be a part of their tremendous efforts."
Mobile Billboards Northwest has emerged as a trailblazer in Out of Home Advertising, leveraging decades of expertise, mobility, and creativity to drive remarkable results for their clients. Their unique approach to advertising, outstanding relationships with clients, and commitment to community engagement cemented their position as a driving force in the Northwest advertising landscape. As businesses seek innovative ways to reach their audience, Mobile Billboards Northwest stands ready to steer them toward success on the highways of effective advertising. Believe in Me thanks Ted Carroll and his team at Mobile Billboards Northwest for their unwavering support!