Innovative Solution: Believe in Me Adapts Annual Event to Virtual Format
Believe in Me, a non-profit organization dedicated to empowering marginalized youth through mentorship, education, and community outreach, found it difficult to fundraise during a tumultuous time in the world. Thanks to the COVID-19 pandemic, the organization had to innovate and find new ways to engage with its supporters and raise awareness of its cause. That's when Believe in Me partnered with In Good Taste and Sendoso to host their virtual  Swirl, Sip, and Support wine-tasting events in 2021.
Swirl, Sip, and Support: Virtual Wine Tasting Event Brings Together Supporters from Across the Country
The virtual wine-tasting events were a huge success, allowing the organization to reach a broader audience while adhering to safety guidelines and covid protocols. Folks signed up for the event online, and within a week or two, they received a box in the mail, complete with eight small bottles of wine, two tasting glasses, and commemorative coasters. This thoughtful package allowed attendees to feel a sense of unity and togetherness while being apart physically.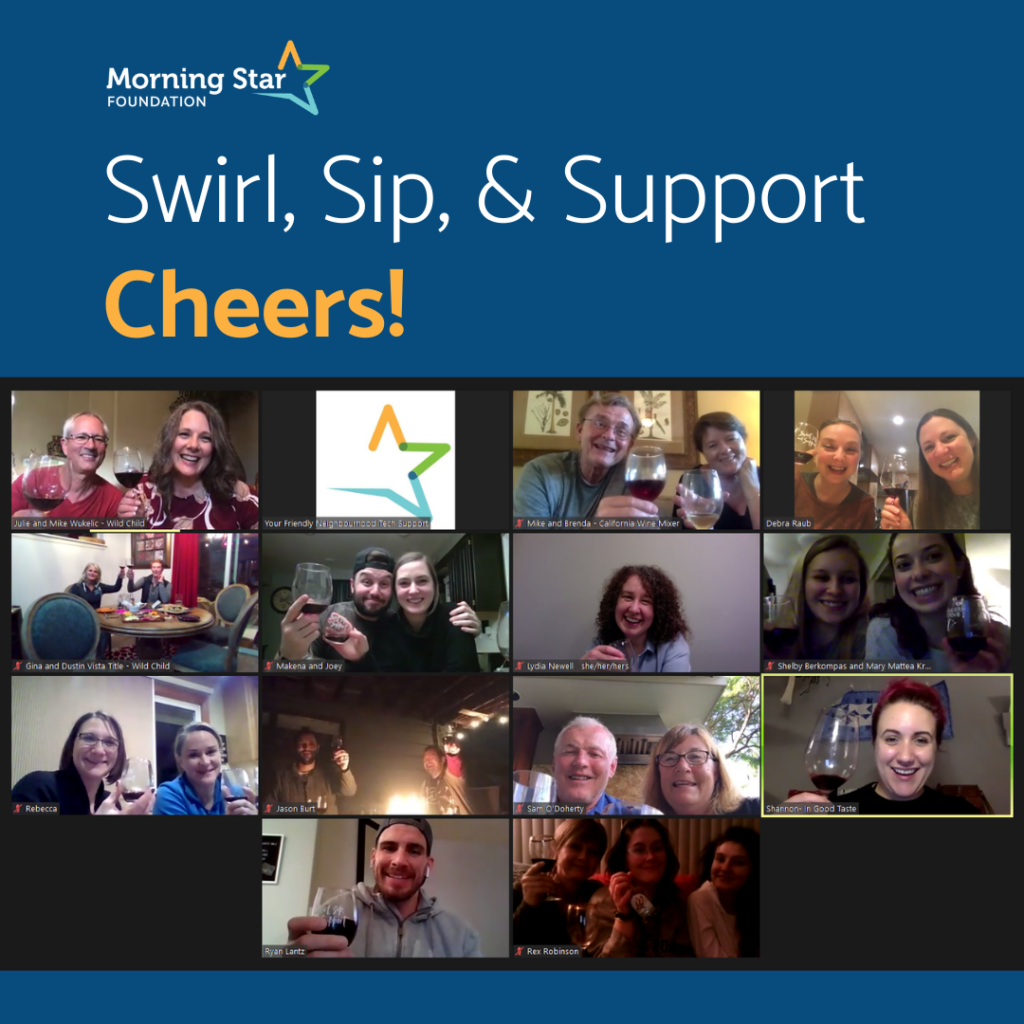 Homework Assignment: Share Your "Believe in Me Story"
The event was designed to be an intimate gathering, with groups of 10 or more virtual attendees joining a Zoom call twice a month. During the call, Believe in Me's CEO introduced attendees to the organization's mission and assigned homework to each attendee to be ready to share their "Believe in Me Story" after the tasting. This allowed attendees to reflect on their personal experiences and connect with the organization's mission on a deeper level.
Learning and Tasting: Attendees Explore the World of Wine with Professional Sommelier
Then, the group moved on to participate in the wine tasting with a professional sommelier, learning about the 4 S's of wine tasting – See, Swirl, Smell, and Sip. Attendees traveled around the world as they tasted wines from different regions and learned about the various wine-making processes.
Sharing Stories: Attendees Connect with Believe in Me's Mission Through Emotional and Inspiring Moments
The virtual wine-tasting event was not only an opportunity to learn about wines, but it was also a chance to connect with other attendees and share stories. After the wine tasting, attendees connected with Believe in Me's mission by sharing stories about who planted hope in them and helped them believe in themselves. It was an incredibly emotional and inspiring moment, and it left attendees feeling motivated to support the organization's cause.
Combining Passion and Purpose: Swirl, Sip, and Support Event Engages Attendees in Empowering Marginalized Youth
What made the Swirl, Sip, and Support event unique was how it allowed attendees to combine their love for wine with their passion for empowering young girls and women. The event was a great way to introduce people to the organization's mission and engage them in a meaningful way. The virtual format also made it more accessible to a broader audience, and the event's success showed that it was a strategy worth pursuing in the future.
Resilience and Success: Virtual Format Allows Believe in Me to Reach Broader Audience and Succeed During Difficult Time
Overall, Believe in Me's 2021 Swirl, Sip, and Support event was a testament to the organization's resilience and innovation during a difficult time. The virtual format allowed attendees to feel connected and engaged, and it allowed them to learn, connect, and support a great cause. The event's success proves that even during times of adversity, organizations can find ways to innovate and succeed.