In a world often defined by borders and divisions, there are remarkable initiatives that transcend these barriers and bring people together through the universal language of music. Music Bridges Borders (MBB) is one such nonprofit organization that has been making a profound impact for over a decade. Established by Elinor and Rick Reed eleven years ago, MBB has fostered cultural exchange and musical education between communities in Northern Mexico and Sandpoint, Spokane, and beyond.
From Dream to Reality: Music Bridges Borders' 11-Year Odyssey
Eleven years ago, Music Bridges Borders began as a humble dream in the heart of Elinor. Little did she know that her vision would blossom into an organization that touched the lives of countless individuals on both sides of the border. With a mission to bring students of merit from community youth orchestras in Northern Mexico to Sandpoint, MBB has been nurturing the musical talents of these young individuals while fostering understanding and collaboration between diverse cultures.
MBB's growth and dedication are further evident in the fact that it operates as an entirely volunteer-run organization. The passion and commitment of volunteers drive every aspect of their operation. Their selfless efforts ensure that every donation and contribution directly enriches the lives of these aspiring musicians, making a tangible impact on the community.
Unity Through Melodies: Music Bridge's Borders' Inspiring Annual Camp
The heart of Music Bridges Borders lies in the annual camp held from mid-late July through early August. Each year, a group of talented students from community youth orchestras in Northern Mexico travels to Sandpoint, where they embark on an inspiring journey of musical exploration. These young musicians bring their skills to share and share the richness of their cultural heritage.
During the camp, the students immerse themselves in various activities, collaborating with local musicians and residents of Sandpoint. The experience is transformative, as students perform at various venues, sharing their talents with the locals and leaving lasting impressions on everyone they encounter.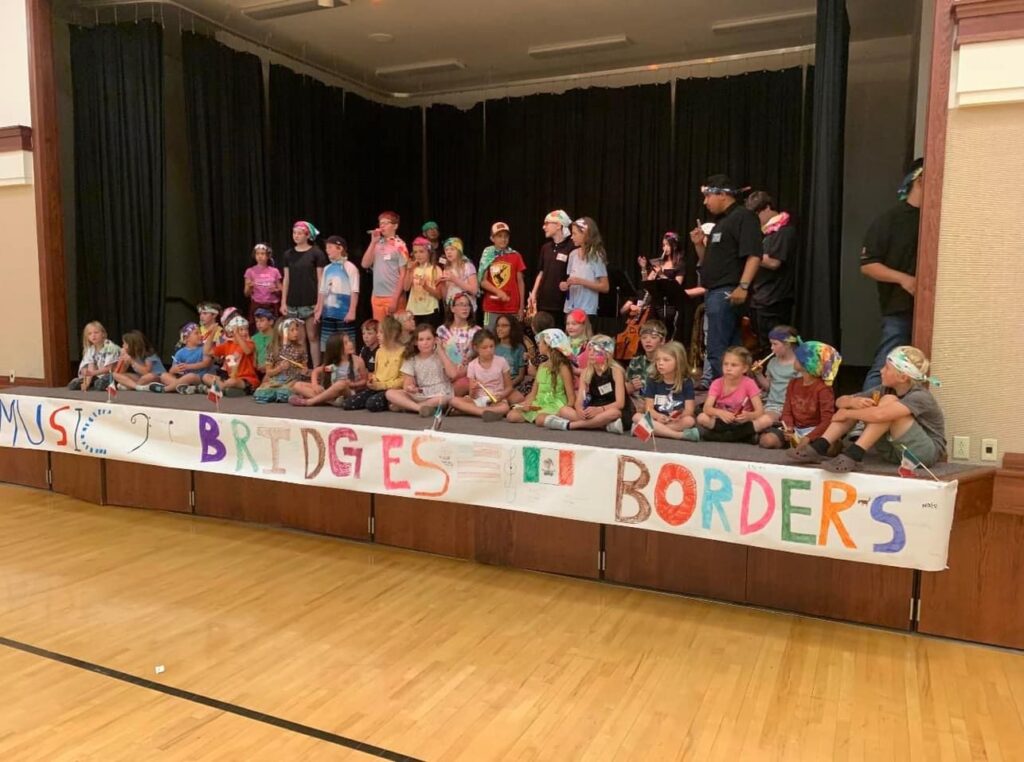 Discover the Magic of Music: Hands-On Learning at Music Bridges Borders Camp
One of the highlights of Music Bridges Borders' camp is the free music lessons offered to local youth. Under the guidance of exchange students, young learners get a taste of different instruments, from the oboe to the violin, trumpet, flute, and more. This hands-on musical exploration not only introduces children to the beauty of music but also inspires some to pursue a lifelong passion.
Additionally, the camp offers master classes with experienced teachers from Sandpoint, Spokane, and even CDA (Coeur d'Alene). These intimate sessions allow students to refine their skills and gain invaluable insights from seasoned musicians. Furthermore, heartwarming stories of instruments provided to students in need, such as the oboe purchase, exemplify the generosity and compassion that Music Bridges Borders nurtures within its community.
A Melodic Bond: Music Bridges Borders and Spokane Youth Symphony Orchestra
The positive impact of Music Bridges Borders extends beyond the borders of Sandpoint and Spokane. In a beautiful display of reciprocity, MBB extends its support to the Spokane Youth Symphony Orchestra's summer music camp. By doing so, they offer their exchange students the opportunity to continue their growth and musical journey in an advanced setting.
The relationship between MBB and SYS has grown stronger over the years, and the students from both sides eagerly anticipate this exchange. SYS ensures every child receives a nurturing environment to develop their talents. In return, MBB finds that some students from SYS are inspired to volunteer at the free musical exploration camp in Sandpoint, fostering even more connections within the community.
Making a Difference Through Music: Standing with Music Bridges Borders
For Music Bridges Borders, each year is a chance for growth and improvement. As auditions for the 2023 camp are underway, the organization faces the challenge of rising costs, particularly in airfares, transportation, and food. While MBB is a volunteer-run organization, expenses inevitably accumulate, including camp fees, insurance, and paid pianist accompaniments for performances.
Believe in Me's support helps them cover essential expenses, ensuring that their transformative camp continues to thrive and make a difference in the lives of these young musicians.
Music for a Better World: Supporting Music Bridges Borders' Mission
As readers, we have the power to be a part of this harmonious journey facilitated by Music Bridges Borders. We can contribute to their mission of bridging cultures, fostering understanding, and empowering young musicians through the universal language of music.
There are several ways to get involved and make a difference. Donations, big or small, go a long way in supporting MBB's endeavors. Volunteering time and expertise can also be immensely valuable in enriching the lives of these young musicians. By doing so, we become an integral part of an organization that believes in the power of music to transcend borders and create a world united in harmony.
Believe in the Magic of Music: Music Bridges Borders' Transformative Impact
Music Bridges Borders is more than just a nonprofit organization; it is a beacon of hope, bridging cultures and fostering connections that can transform lives. With Elinor and her team at the helm, MBB continues to create a positive impact in the lives of young musicians and communities, inspiring a collective belief in the magic of music.
Through their unwavering dedication and the support of organizations like Music Bridges, Believe in Me has touched the hearts of countless individuals, nurturing talents and sowing seeds of understanding that will continue to flourish and grow for generations to come. Let us join hands and embrace the harmonious journey orchestrated by Music Bridges Borders, as we believe in the transformative power of music to connect us all.